You can brighten up a room quickly with inexpensive prints or kids' drawings, just by putting them in discount frames. If you want to take it one more notch, you can personalize the look with some custom colored burlap, and pep up your new framed collection.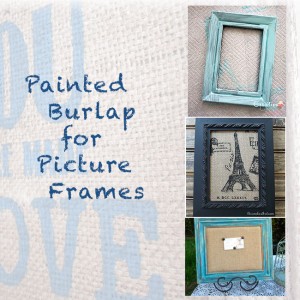 To keep things inexpensive, you can find a source of frames that include single mats. You can often find these in a variety of sizes and styles for less than $10.00. Cover the mat with burlap in order to add an organic and beautiful look to your display. Do not settle for a limited color range of burlap that you'll find at stores. It is easy to dye burlap after it has been glued to the mat by using a wash of acrylic craft paint in a color that endorses the artwork.
Choose a color of burlap that is as close as possible to the color you want your finished mat to be, or use a color that endorses it. Some of the burlap's original color will show through, adding a texture to the mat.