String bag: This bag is totally lightweight yet able to carry a lot of provisions. The best thing about it is its ability to extend, so just when you think you have fit all that, you can still throw in that last stuff. For the time being, the problem with the string bag is its lack of form when loading and also the impression that it could be unhygienic, especially when it comes to food.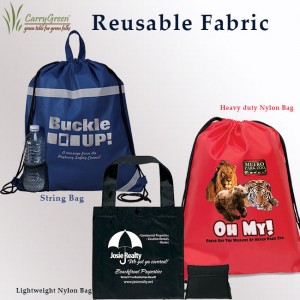 Heavy Duty Nylon: This bag is made to last a lifetime. Tote bags are frequently made of this heavy nylon. It resembles a traditional paper grocery bag with some added handles. It stands well on its own for easy packing. Nevertheless with that quality of materials and durability, comes a not-so-compact packaging. It folds similarly to a paper grocery bag.
Lightweight Nylon: The cool thing about this alternative is that it fits in with the existing system for bagging groceries at the check-out counter. It is more durable but still lightweight material when compared to the plastic bag. But again it lacks form when loading.
Each of them has its disadvantages and advantages. The thing is, they all have the potential to save thousands of throw away plastic bags. CarryGreen.com is a web-based store with prices lower than the rest of the competition. They have a huge selection of totes from jute and cotton to canvas and non-woven.