For the First Superhero in Your Life
All little boys and girls are totally in awe of their Dads and
the awesome things that their big and strong fathers can do. If you've spent
your growing years watching wide-eyed as Dad effortlessly dealt with of all the
seemingly impossible stuff around the house and took care of you, now's the
time to tell him. Show your appreciation for the stories he read out, the
broken toys he fixed, and the zoos, aquariums, amusement parks, and carnivals
he took you to. And, the perfect way to do that is to put together a bunch of
Father's Day gift ideas.
So, What Does Dad Like?
A good starting point to figure out what to get for Dad is to
think about what he likes best. In place of a single present, you could plan a
series of gifts delivered to him all through the day, that is, if you can't
spend the day with him. But, if you intend to be with him from morning to
evening, bring out a bunch of surprises as Father's Day gift ideas as the day
wears on. For instance, begin with a breakfast surprise and make lunch special
with another delight. Bring out another of his favorite things at coffee time
and round off the day with a lovely dinner with yet another little something
that could bring tears to his eyes. Of course, you won't see them. He's going
to be very discreet.
Ready for a Bunch of Exciting Father's Day Gift Ideas?
Think Candy!
If you thought chocolates, candied nuts, and cookies were a
female thing, you'd be surprised. That's because research shows that men also
have a sweet tooth and actually have special preferences when it comes to
candy. Choose from mint and chocolate and if your Dad isn't allergic to nuts,
go for an assortment of nuts and candy or better yet, nuts covered with
chocolate. Alternatively, you'll find individually-packed cookies in single
servings as Father's Day gift ideas to control portion sizes.
If you think, chocolate is not really a great idea, consider
licorice or bring back some memorable childhood moments with colorful gummy
bears. Or, here's another option. Pick out a complete set that includes a pen
holder, drinking cup, pretzels, and a cocoa mix. To add a special touch, have
the packaging inscribed with a loving message to Dad.
How About Supplies for Work?
Depending on the kind of work your Dad does, you could gift him office supplies like padfolios and portfolios. Choose from a collection of folders covered with eco-friendly faux leather or fabrics. Each zip-up folder will have plenty of space and pockets for all the stuff Dad needs at work. For instance, sections for documents, a cellphone, credit cards, visiting cards, a calculator, and a tablet. You'll also find holders for pen drives and smart pens that you can order with the folder.
Drinkware that is Totally Masculine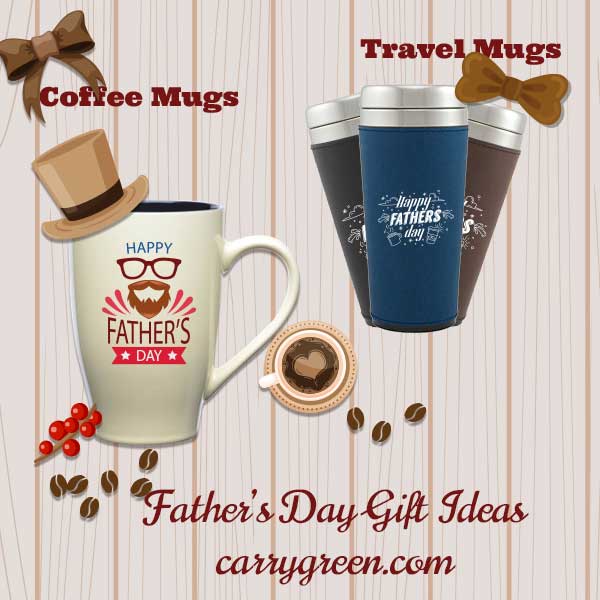 Like all working people, your Dad probably likes to kick back
after a long day at work with his favorite chilled beer. If this sounds like a
familiar scenario, consider personalized drinkware as Father's Day gift ideas.
You'll find this awesome collection of beer mugs, whiskey glasses, cocktail
shakers, Martini glasses, brandy glasses, and cocktail shakers and glasses.
While you can have the glasses and mugs inscribed with Dad's name and perhaps,
a message, you can also opt to have the packaging imprinted instead. And, if
you'd like to kickstart a great day with coffee and a warm message, you can't
go wrong with the traditional coffee mugs telling the most wonderful man in
your life what he means to you.
Men Need Totes Too!
For the complete man who loves to take care of his lady by helping with shopping expeditions, the perfect Father's Day gift ideas would be jute tote bags highlighted with leather handles. These smart bags are made with sustainable materials and provide complete utility for a good long while. Not only do they look smart and trendy, but you can have them customized with your Dad's name in stylish calligraphy. Would you like to take the personalization a step further? Create your own artwork and upload it to the website. The organizers will have it inscribed on the side of the bag. Watch your Dad beam with pride when people ask him about the message on his tote.
Is Dad a Fitness Enthusiast?
Does your Dad love to work out and keep fit? This Father's Day, pick out a stainless steel bottle that he can use for bringing energy drinks to his exercise sessions for hydration. The exciting thing about these bottles is that they have insulated sides with a choice of a copper layer that can be used for keeping drinks hot or cold as needed. The bottles are easy to clean and won't leech harmful chemicals into the beverages. And, since they're made with steel, they're unbreakable and durable. Choose from a range of bright powder-coated colors and caps with handles so they can be strapped onto gym bags. And, of course, they can be customized with a warm, heartfelt message.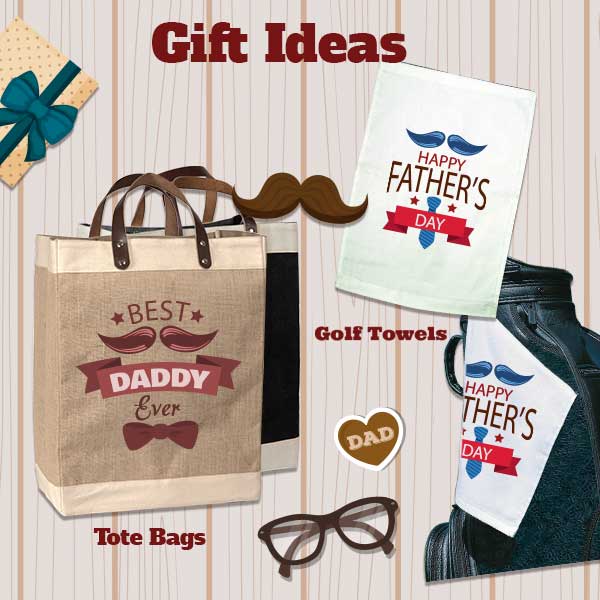 For the Die-Hard Golfer
Is your Dad an avid golfer? Then, one of the best Father's Day gift ideas would be a set of golf towels. Made with moisture-absorbing microfibers or high-grade cotton, these towels come with a ring so they can be easily attached to the golf bag. These towels are great for wiping hands, clubs, and tees and will make a huge difference in Dad's game.
With such an immense range of gift ideas, you're sure to be
spoilt for choice when picking out the best options that will make Dad happy.
For more information about the best ideas for customization and adding inscriptions,
you'll want to speak with the consultants at CarryGreen.
Call us at this number: 888-743-3129. Or, add your contact details on this
page along with your query. We'll get back to you with a bunch of
new ideas you'll love.