Let's Get Started with Essential Supplies
Americans love to travel! That's a fact! And, most people will
likely head for beach destinations each summer. Even the people who prefer
staycations love to spend time beside the ocean getting that amazing suntan and
building sandcastles with the kids. If this is you, chances are that you're
already putting together a list of all the stuff you need to buy for your beach
vacation. Like many of your compatriots, you'll want to invest in durable items
that you can reuse year after year but won't impact the environment. If you're
constantly checking labels for the green signs indicating that the products are
eco-friendly, you've come to the right place.
First on Your List? A Great Tote!
Tote bags are one of the first things you'll pick out for your beach vacation. You could choose bags made with jute, burlap, cotton, or denier in an amazing collection of patterns and colors. When they get dirty, simply toss in the washer and you're sorted. Such totes are available in a range of sizes with long and short handles to match your requirements. Pack in all the supplies you'll need such as snacks, beverages, suntan lotions, sunscreens, hats, sunglasses, flip-flops. And, if you're traveling with kids, you'll need to carry an array of beach toys to keep them busy while you relax on the beach.
Of course, one of the prerequisites of a heavenly nap on a
beach vacation is a chilled drink. Bring your favorite beverage bottles along
with an assortment of juice boxes by packing them into insulated tote bags.
Further, pick out bags that have plenty of compartments that keep your things
organized. You'll save on rummaging for a precious 5 minutes looking for a pack
of gummy bears to calm a three-year-old having a meltdown because there's only
so much ice cream he can eat. Bags with a laminated interior are also handy for
storing candy bars threatening to melt in the warm sun and containing spills.
And, Yes! Personalization Helps!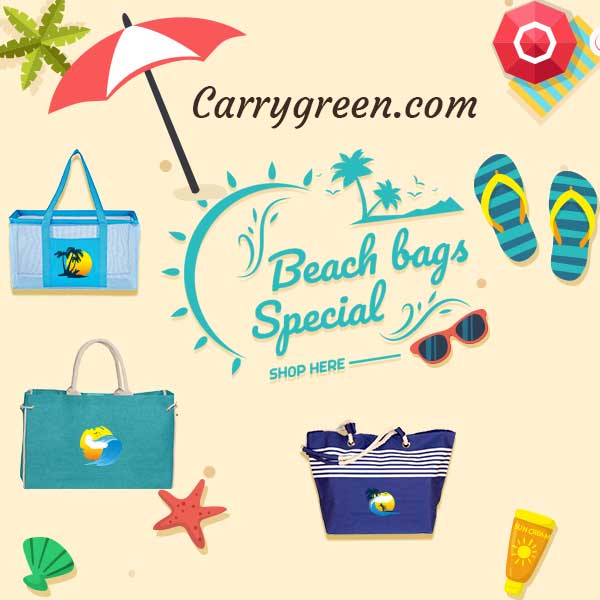 In case you're wondering why you would need to get your tote personalized, picture this scenario. You're juggling a bunch of boisterous toddlers (you have any two, but they seem like a bunch!) along with diaper bags, food, beverages, beach toys, towels, and an arsenal of other stuff. You lug all of them to the car and pack them in. At some point, the tote decides to stay back in a sandy corner. A good soul passing by spots the tote, checks the phone number on it, and calls you to restore the bag to its owner. Sounds great, doesn't it! So, yes. You need personalization.
Next? Beach Umbrellas for Shade
Umbrellas can be extremely handy to have along on a beach vacation. While they'll keep you protected from too much sun and an unexpected rain shower, you can also use them to create an instant shady spot for a baby or a toddler to nap in. Of course, you can always rent them, but it doesn't make sense to invest $15 to $30 per day when you know you will be going on many more seaside vacations. When you're done with them, fold, and store until you need them again. Pick out the umbrellas with a large arc of 62" and more and they're really handy when you're having a garden party or barbecue back home. Here's another idea. How about buying a complete color-coordinated set with an umbrella, matching sleeve, and tote bag?
What Else? Bottles? Tumblers?
With so much awareness about the dangers of using plastic for storing beverages, you're likely them phasing out in your home. A good durable alternative is stainless steel which is easy to clean, store, and carry. The best part is that you can comfortably use them while traveling for your beach vacation to bring hot and cold drinks without worrying about spills and odors. The exciting thing about these tumblers is that they're available in a range of trendy colors in powder coating that will last you a good long while. Further, the double-layered structure keeps your beverages hot and cold for hours without the possibility of leaching harmful chemicals into them. And, if you're looking to add to the health factor, choose bottles that have an inner layer of copper.
If you're carrying drinks for kids, it is understandable that
stainless steel won't work considering that these bottles do get slightly heavy
for little kids to hold. A good alternative is to opt for safer plastics that
don't contain BPA - the harmful component. Pick out smaller sizes with sipping
straws and spill-proof lids that kids can hold and drink from. They're also
really handy to keep antsy tots busy when driving to and from your beach
vacation. These tumblers are available in a selection of attractive colors that
kids are sure to love. And, as long as you avoid filling them with hot
beverages, you'll be fine.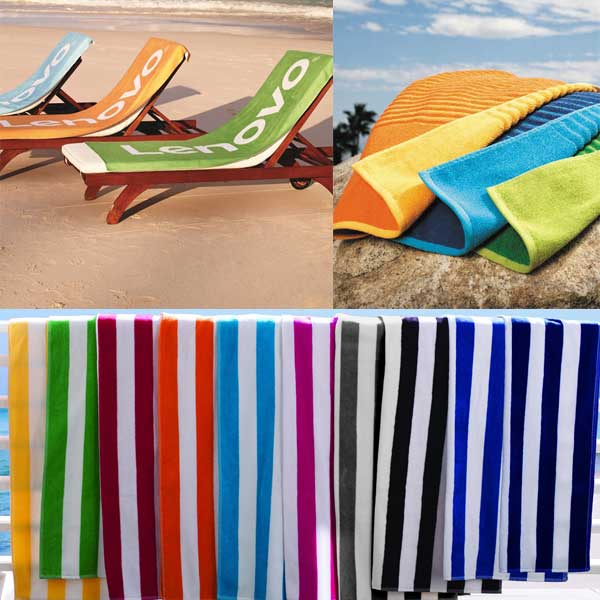 Don't Forget the Beach Towels
You'll need beach towels for spending long languorous hours on
the sand. Choose from a selection of soft terry towels with lovely prints and
colors. You'll find that the sizes are perfect for laying back and also for
wrapping around when you emerge from the water. If your kids have favorite
superheroes or sea creatures, have the towels printed with the images they like
best. All you need to do is upload the images to the CarryGreen
website and they'll have the towels printed for you. In place of the
conventional rectangles, you can also opt for the signature Turkish towels in
round shape. Made with high-grade terry cotton, they're perfect for a fun
seaside vacation.
Would you like more information about all the products you can
order for your beach vacation? Are you looking for high-grade durable items
made with eco-friendly materials? Call us at CarryGreen
at this number: 888-743-3129 or contact us by clicking
here. Fill out the form with your query and we'll get back to you
with all the information you need.