How to Inculcate Green Habits in Young Adults
As citizens committed to the future of the
planet, you've probably adopted green practices for regular living that your
kids also follow. Simple rules like recycling, planting trees, turning off
faucets to minimize water usage, and switching off lights ingrained from
childhood will make a world of difference. Now that your kids are getting ready
for their next semesters, show them how buying eco-friendly back to school
supplies is the next step in cleaner living. Here are some of the options
available at carrygreen.com that you can consider.
Let's Begin with the Backpack -
Drawstring Bags Anyone?
When choosing the right bag for kids to bring their back to school supplies, you can go with the drawstring or cinch bags made with cotton or burlap. Here are a bunch of positives that make these bags just what you need: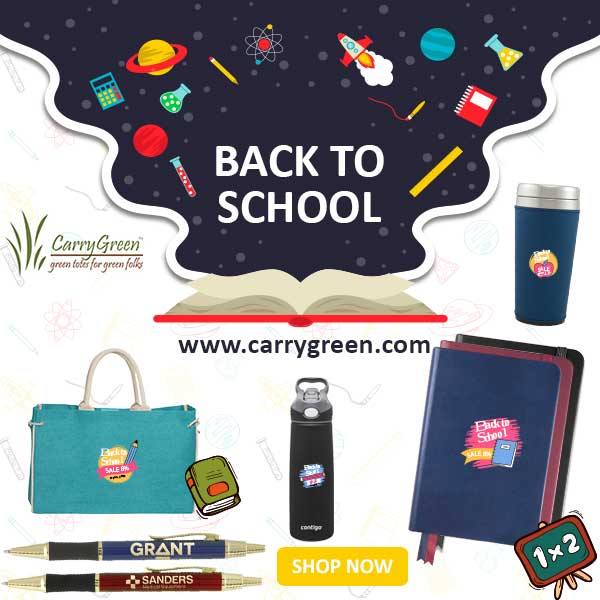 Since these fabrics are natural and lightweight, they allow easy movement of air making them comfortable to carry.
Both cotton and burlap are durable materials which is why the bags last a good long while.
When your kids have stowed all the gear they need, a pull at the string on the top secures their belongings and prevents items from falling out.
Typically, drawstring bags have a soft, flexible structure so they can take any sized folders and other back to school supplies kids may need.
Your kids are not likely to outgrow the bags quickly because the strings can be easily adjusted to match the growing torso of your child.
Should you check the catalog at carrygreen.com https://www.carrygreen.com/bags/drawstringbags.html you'll find special bags that have an extra zipper on the outside to keep small items sorted.
Or, Maybe, You Prefer Canvas
Totes and Bookbags
Depending on individual preference, you can opt for canvas, bookbags, or messenger bags in trendy colors and patterns that kids will love. Your little girl is sure to adore the book bag https://www.carrygreen.com/bags/retailbags/school-college-bags/large-beach-tote-classic-boat-bag-with-floral-print-trim.html that has a lovely floral trim available in a selection of colors. Alternatively, opt for denier bags https://www.carrygreen.com/bags/retailbags/school-college-bags/denierorganizertote.html made with 50% recycled materials. Such bags are more suitable for kids who prefer lots of compartments to keep their books, pens, and other stationery sorted. Perhaps, the best positive of canvas and denier is that it is washable and easy to maintain.
Do keep in mind that you can always have the
bags customized when you order them at CarryGreen. All you need to do is let
your kids choose an icon or logo which they like best and have the bag printed.
Moving on to Padfolios
Regardless of the grades your kids are in,
they're going to need journals and padfolios with ruled sheets for taking notes
and doing assignments. When picking out their back to school supplies, choose
from an exciting selection of notebooks and folders in bright colors bound with
a water-resistant material. You can also pick out journals that have a pocket
on the inside of the back cover for slipping in loose papers. These folders are
available with or without an elastic band to secure the notebook.
Older kids will find the advanced versions of padfolios highly convenient. Some of these folders have adequate room for a cellphone, pen, and calculator along with other pockets for knickknacks. Others have a front pocket on the top cover for slipping in extra items along with a neat holder for a single pen.
Going Green by Bringing Beverages
from Home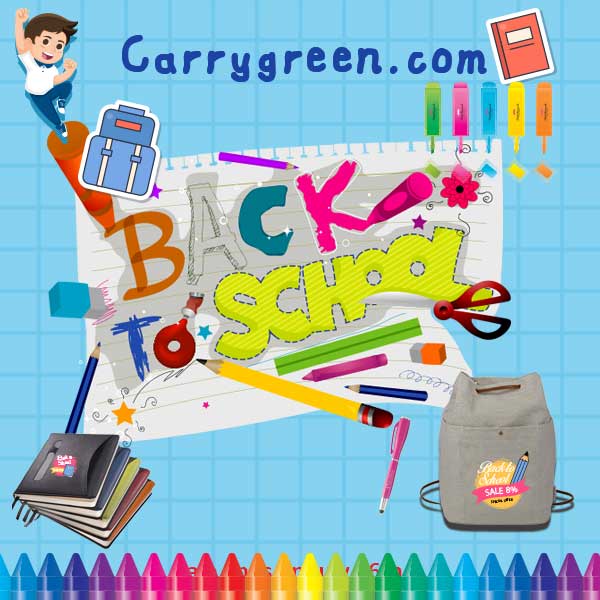 One of the first rules of going green is lowering
the amount of waste from regular usage and replacing it with recyclable
materials. This semester, encourage your kids to bring beverages to school in
reusable bottles that you'll order along with their back to school supplies.
High school students can pick out stainless steel bottles in a range of colors
and finishes. You'll also find containers in smaller capacities that kids can
slip into their backpacks. Or, with looped holders that can be clipped on the
strap of the bookbag. Invest in BPA-free bottles for younger kids who need them
to be light and easy to carry when filled with water, juice, or any other
beverage.
Next on Your List? Lunch Bags
Given your commitment to making sure your kids eat healthy, the next must-have on your list is the lunch bag . Pick out insulated carriers in smart colors that are also light, made with natural fabrics, and keep food warm or cold as needed. You'll also find that there's plenty of room and zippered pockets for a sandwich box, snacks, fruit, and a beverage bottle. Toss into the washer over the weekend and the bag is good to go for the next school week.
Pens to Make Homework Interesting
Transform homework into a fun task by buying your kids a collection of cool pens to use all through the semester. In addition to an assortment of colors, the pens can be customized at no extra cost. You can also order them in black or blue ink and with a rubber holder for an easy grip. Or, look for special pens that have an LED flashlight fitted at the tip. Rest assured that the gel ink in the pens is high-grade and will make writing smooth. Looking for something totally unique? Order pens that have three functions - writing, a stylus for use on a screen, and an LED light. Bet you'll end up ordering a few for using at work.
Should you browse the website at CarryGreen,
you'll likely find almost all the back to school supplies your kids need for
school. Shop without worrying because all our products are made with recycled
materials that won't harm the environment at the end of their life cycle. Do
keep in mind that you can request for personalization for any of the items.
If you have any questions and would like to
place an order, we welcome your queries. Click on this form https://www.carrygreen.com/contacts
and let us know what you need. We'll get back to you with responses. Would you
prefer to talk to a live agent? Call us at this number: 888-743-3129!